PER REGISTRARSI ALLA KICK THE COAST CHALLENGE CLICCARE QUI!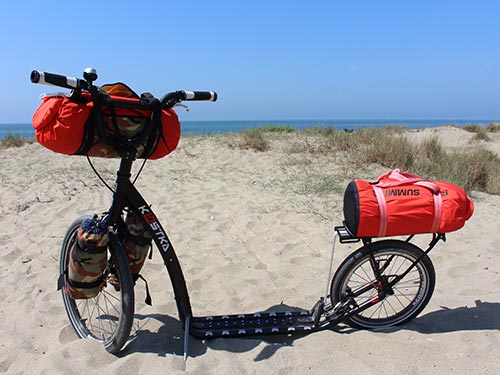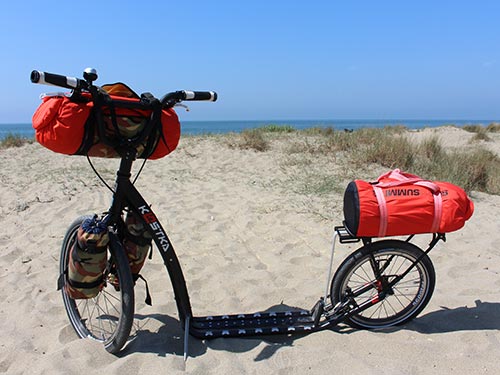 Ricorda che la prima sfida è con te stesso: stai per mettere alla prova la tua determinazione, le tue capacità, le tue competenze e la tua resistenza. La sfida (challenge) con gli altri partecipanti/atleti è solo l'altra faccia della medaglia!
Sulla costa toscana: la Toscana con le sue strade parallele alla costa, le sue pinete, la sua storia e le bellissime località balneari è un paradiso per i footbiker. Provare per credere!
Sulla challenge: questa è la prima sfida in autosufficienza con la footbike (vedi la sezione Filosofia e Regolamento) in Italia. Spingerete la vostra footbike per circa 250 km lungo la costa partendo da Capalbio, un piccolo paese nella parte più meridionale della Toscana, praticamente al confine con il Lazio e andando in direzione nord per arrivare a Cecina, una piacevole località balneare. Vi ricorderete di questa avventura per il resto dell'anno durante i lunghi giorni invernali!
Cosa è incluso: il tacciato GPX della challenge, il pettorale, un gadget della sfida, assicurazione personale, un posto (palestra o altro) dove dormire e farsi una doccia la sera prima della partenza e al momento dell'arrivo, il certificato di finisher (ovviamante se terminate la challenge!).
Blog: Kick the Coast
KICK THE COAST 2018 GALLERY
LA KICK THE COAST 2019 PARTIRÀ IL 10 MAGGIO! 
Giorni, ore, minuti all'inizio della Kick the Coast 2019